THE ALL NEW COMPANION IS NOW AVAILABLE
Our Companion Pedal Assist Electric Tricycle is designed with a rear bench seat, providing a comfortable and safe ride for your loved ones.
Order Now!
GET A SECOND BATTERY FREE!
ONLY A SMALL NUMBER LEFT! All Cargo's and Cruiser's come with a FREE second 48v/15Ah battery. A $795 Savings! Offer valid while stock lasts, not available with any other offer or ex-demo sale.
Buy Now And Save!
Interest Free Financing Now Available
Shop Now, Pay Later with Affirm. Now available at checkout. Select from terms as short as 6 months and your purchase is interest free!
More info
Scrap-It
Did you know eTrikes Canada is a participating retailer in the BC SCRAP-IT Program? This program provides low carbon transportation solutions for British Columbia residents by offering incentives to scrap high polluting vehicles for an electric vehicle and other low carbon forms of transportation.
More info
Electric Trikes - Balance and Mobiltiy
Millions of Canadians suffer from balance and mobility issues. Whatever the cause, instability can seriously affect quality of life.
An electric pedal assist three wheel tricycle offers a low cost, stable and easy to use solution that will benefit many of those experiencing mobility or balance issues, resulting in a return to a more active, healthy and social lifestyle.
More info
Electric Trikes - Greenhouse Mobility Solutions
Commercial greenhouses and their workers play a crucial role in supplying the nation's food supply. Canada's agricultural industry requires large numbers of labourers to work in the farms and greenhouses.
The use of electric cargo tricycles can speed up travel and handling times helping to reduce labour costs.
More info
Electric Trikes and your health
Did you know Canadians are sitting an average of 13 hours a day and sleeping an average of 8 hours, resulting in a sedentary lifestyle of around 21 hours a day?
While we all know about the importance of exercise, only one in three people exercise regularly, most us do not spend enough time staying active. Imagine a fit and healthy lifestyle simply by leaving the car at home and having fun riding an electric trike to work.
Upgrade your life today with an eTrike from eTrikes Canada.
Electric Trikes and your Wealth
You may be surprised to learn that Canadians spend between $8,600 and $13,000 a year on a car.
By replacing your second car with an electric trike from eTrikes Canada, the average family can save between $26,000 and $39,000 over  three years
Electric Trikes and your Happiness
Do you know that a typical passenger vehicle emits around 4.6 metric tons of carbon dioxide per year and that by 2024 North America alone will need to dispose of 1 Million old car tires each and every day.
You can make a difference. Leave the car at home and be happy in the knowledge that you are contributing to a greener planet on your electric trike.
Places to go, things to do, people to see.
We all know what it is like to be on the go. Wouldn't it be great if you could reduce your reliance on a second car. Have you considered an e-trike?
The idea behind the electric tricycle, or electric trike, is not to replace your 2 wheel bike or electric bike, but to offer an alternative mode of economical transportation. Lets face it, you can find everything from a cheap electric bike to a top of the range ebike that will deliver many of the same benefits of an electric tricycle for adults. If all you want to do is ride it around.
What if you are a bit older and want an easy and healthy way to do your weekly shop, or visit friends? Electric trikes for seniors come in a wide range of shapes and sizes to fit your individual needs. In comparison to an electric bike, an electric trike's wide stance and double rear wheels offer stability you just can't get on two wheels alone. No need to balance your shopping, simply pop it in the rear cooler bag and you are ready to roll. Adults looking to buy electric tricycles instead of trike kits or normal bikes will be surprised by how practical an electric trike is.
Are you an avid golfer wanting a more economical and healthy way to get you and your clubs to the golf course? Many of our electric tricycles for sale are compatible with a two wheel trailer, custom designed to tow your clubs easily behind your electric trike.
Or a young family with a toddler (or two) in the picture? If you have ever tried balancing your electric bike while wrestling to get a toddler into a bike seat you will know how difficult this can be. Never mind when you get them all strapped in and realize you left your keys in the house. Electric trikes for adults take care of that, most standard child seats that fit electric bikes for adults can be mounted on many of our electric trikes for sale.
As an alternative way to get to the office, an electric tricycle will fit on standard cycle pathways and offers ample storage for your bag, laptop, change of clothes, lunch and more. A powerful pedal assist motor, not like the kind from low quality trike kits, paired with a powerful lithium battery will get you into work without breaking a sweat.
So maybe it's time to leave the car at home. We have electric trikes for sale that will improve your health, be lighter on your wallet and make you feel good about helping the planet. Electric Tricycles for adults are the answer for a greener planet. If you are looking for cheap electric trikes for sale keep in mind that cheaper is not always better. Our e trikes are suitable for adults and seniors and offer better balance than electric bikes for adults. Be sure to check out an electric tricycle before you buy an electric bike, you may be surprised!
We've been riding our companion eTrike just about every day. It's been so much easier to get around in the townsite, and we are happy to say we can get out of the house more often and use our car less!
Sirena & Fred, AB
I live on my trike when it's not raining. I have often said, "undoubtedly it was the best decision I made last year in making that purchase"
Ray W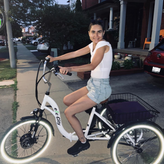 This has been a great purchase! I am unable to ride a regular bike but this bike has made it possible, its really stable and easy to move. I love that I can adjust my activity level and on a good day I can bike with no assistance but can turn on the e-assist at different levels when I need. It's a great investment and I am really happy with it.
Dana
The coolest ride ever ! #etrikescanada helped me get on this bad boy and will be bringing it to me soon . I can ride a bike again !! MS symptoms are no match for this e trike . Thanks again to the guys @etrikescanada #thisisms on the good days
Helen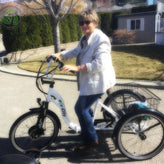 A real life changer! I cannot emphasise enough how much I am enjoying this e-trike. As a lady in her early 70's, I developed balance difficulties and was very disappointed not to be able to use my two-wheeled bike any longer. However, once I contacted Jim and Grant at e-Trikes Canada, everything changed. They went out of their way to demonstrate and explain the parts including the battery. I was able to take it for a test ride before completing my purchase. I love the low profile step through frame and feel confident when stopping without worrying about tipping. My neighbourhood has several hills so I decided to upgrade the motor to 350W. The battery life is amazing. It took a little while to get the hang of the different feel when steering, but just as Jim said - it didn't take long. The fact the trike folds allows me to easily transport it in my SUV. Next week I am planning on taking it on a 21 km bike trek with friends. Thanks again, e-Trikes Canada.
Sharon
I have had my Cargo eTrike for over a year now and have enjoyed riding it up and down the hills on the bike paths in Calgary. This has also allowed me to see places that I have not been able to reach by other means of transportation. This is a comfortable trike that assists me with mobility, in that it helps my old knees on the hills. I enjoy the freedom of biking and going much longer distances, increasing my enjoyment of life and health. I chose this trike to carry picnic food, water and clothing for myself and my grandkids. (I can keep up with them now!) The service has been phenomenal. On the occasions that we needed service, the eTrike team have had the delivery and repairs done within days, even though we live in Calgary. I constantly get comments about it's good looks from people on the trail. I loved this trike from first seeing it at the trade show and I still do.
Diane
5 Great Reasons To Buy From Us